I am originally from Japan so I gravitate toward authentic Japanese food. 
"Japanese Grandma's Cafe"(Japanese/sushi restaurant)finally opened in Hanapepe town in Kauai island!
"Japanese Grandma's Cafe" (Japanese/sushi restaurant)My recommendation lunch menu(11am-3pm)
Japanese style sushi-burrito rolled with seaweeds.
"Japanese Grandma's Cafe" 
(Japanese/sushi restaurant) 
Lunch Menu
"Japanese Grandma's Cafe" 
(Japanese/sushi restaurant) 
My recommendation dinner menu (5:30pm-9pm)
*Ahi Poke Wonton Tacos  $13/2pc(add one taco +$4 )Ahi, Avocado, Tobiko, Yuzu, Wasabi, Aioli.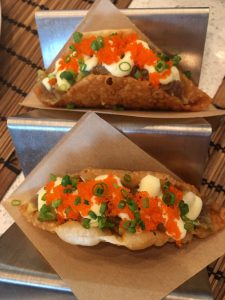 Looking good! This is the most popular appetizer.
*Agedashi Tofu $6 Fried tofu topped with grated daikon and ginger in dashi soy broth.
This one of my favorite dish.
*Tempura / Mixed Tempura $11 (Shrimp, Green Beans,Okinawa Sweet Potato, Kabocha, Eggplant)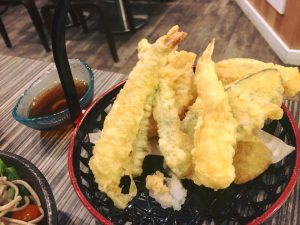 ☆Land
*Pan Seared New York $17 with Yuzu Kosho Glaze
The citrus flavor from yuzu and the spicy taste from pepper are great pairing with steak. The picture shows the half portion that I shared with my friend.
*Pork Tonkatsu $15 with Shaved Cabbage, Katsu Sauce, Spicy Mustard.
☆Sea
*Hamachi Kama-Market Price with mixed greens, lemon, and ponzu.
☆Dessert
It is not overly sweet and just perfect dessert that is green tea-matcha flavored soft mochi (rice cake).
Sushi has been one of the popular cuisines now in Kauai that some of the restaurants and bars even build sushi bars to bring more customers to their places.
When it comes to sushi, the rice ball goes under the piece of fish serves very important part. The doneness, seasoning, temperature, density of the rice ball are all matters to make a great sushi. They used the short grain rice called "Tamanishiki" which the best rice you can get in the US.
Of course, any fish sushi Chef, Shin serves is fresh and delicious but the way he creates both sushi and rolls are exceptional. The pressure that chef uses to make rolls and rice ball under sushi pieces needs to be just right! not too soft and not too tight so when you pick them up with chopsticks or hand, they remain the shape yet when you bite rice doesn't feel too dense. The pairing of his technique and beautiful fish makes the best sushi in Kauai!
Hope you understand what I am talking about when you experience the sushi at "Japanese Grandma's Cafe" sushi chef, Shin will always welcome you with a big smile on his face!
Here are Tammy's recommended sushi menu! 
"Japanese Grandma's Cafe" 
(Japanese/sushi restaurant) Tammy's recommendation! Sushi! 
Kauai is know to have a great shrimp(Ebi)! They are large and texture is beautiful. Ebi(shrimp) sushi pieces are not only my recommendation but sushi chef Shin's as well. You can request small shrimp roll, too.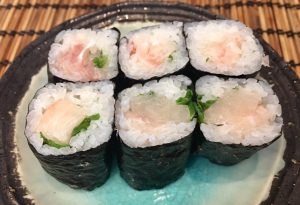 *Ika(squid) $13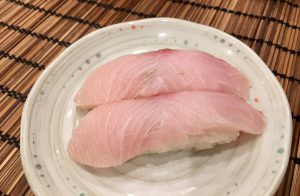 *Grandma's Futomaki  $14 (Egg, cucumber, yamagobo, kanpyo, shiitake, eel, shrimp)
without eel and shrimp $9.50
This is a Japanese traditional roll with full of great flavors. It looks beautiful and people from Japan would feel nostalgic.
*Uni(sea urchin, salmon and tuna are delicious, too!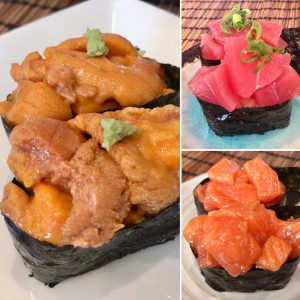 You can eat great sushi at lunch time as well.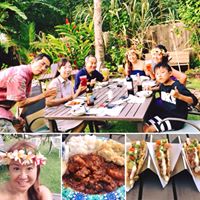 *Open everyday besides holidays(Please contact and check before you visit if you want to make sure)
*address:3871 Hanapepe Rd.
*phone:808-855-5016
*HP : http://www.japanesegrandma.com/
Please understand when you order take out, 10% of the service fee is automatically added to the total.
I hope you are hungry for great Japanese food and sushi! Tammy's recommended place to visit in Kauai, "Japanese Grandma's Cafe"(Japanese/sushi restaurant).
When you come to Kauai, please come and try "Japanese Grandma's Cafe"(Japanese/sushi restaurant)^^