Aloha! People ask me about any fun activities that I recommend and can do in Kauai. One of the things I can suggest is Tubing! It is recommended from kids to grown ups! Let me tell you more about it:)
Tammy's recommendation -Tubing tour in Kauai
People used transporting sugarcane along rivers back in the day but now they offer people to enjoy floats on tubes. These are not rapid streams, you just float on the slow and calm movement of the water down the river. There are some spots the stream gets little faster but nothing is extreme.
Some people may be worried that tube may flip over and they get tossed in a water but don't worry. It is shallow water since this is the route people used to use for transportation so even if the tubes flipped over, it is not a difficult depth to stand and regroup.
Floating on a tube was so relaxing and make Tammy almost fall asleep. Tubing tour that I recommend in Kauai is offered by "Kauai Backcountry Adventures".
"Kauai Backcountry Adventures "offer this tubing tour in Hanamaulu, Kauai. They call this tour the Mountain Tubing Adventure. They also offer zip lining if you are interested in more than tubing.
Tammy experienced "Mountain Tubing Adventure!"
Let me explain how everything was on this tour! Tammy went ahead and made a reservation for this Mountain Tubing Adventure with "Kauai Backcountry Adventures", so once we arrived we went to the office first to confirm our names and filled out liability forms.
They recommend for you to be there 30 minute before the tour starts so you have plenty of time to do this and they will go over some of the things you need to know before the tour and get yourself prepared for the tour.
The office is a warehouse looking building and you usually will see a tour van or two near by. When you face the office building, there is a big parking lot on your right side.
Once you enter the office building, you can view the video of tubing.
There is a gift shop as well. It is a good way to remember this day!
There is a changing room and restroom in this building. You can change before and after the tubing tour. They also offer Hawaiian coffee for free:)
Make sure you have a helmet and a pair of gloves before your departure for "Mountain Tubing Adventure"
The staff member will call you at the counter and hand off the correct size helmet and a pair of gloves before the departure.
There is a headlight on the helmet and they will explain it to you how they function since there are two different types of headlights, one with twist and turn on and the other is pushing a button.
The staff members were very caring and helpful and they will also double-check it with you to make sure you have the functional equipment by turning on the lights and trying on both helmets and gloves.
Let's get in a van and start the tubing tour!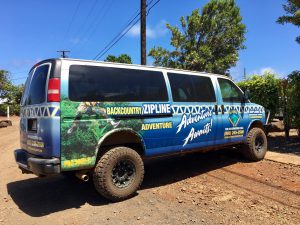 Please make sure you carry out a helmet and gloves when you get in a can. I was with my friend, Mako, Ryoko and her son, Issa. We look like we are a group of explores right? lol.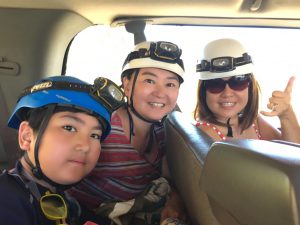 They entertained us even in a car. During our ride, they asked out what's our spirit animals  and favorite flavor of ice cream. My answer was dog for spirit animal and green tea flavor:)
Beautiful view during tubing tour! 
Before we start tubing, they made some spots that we could enjoy a magnificent view of the island. Kauai is known as green island which you can see in the picture. It feels like you can cleanse yourself by just looking at this scenery.

Tour itself is pretty popular and I recommend to book it sooner than later. I wanted to try this for a while but I couldn't book for a while. We have a man and a women team as tour guides on this day.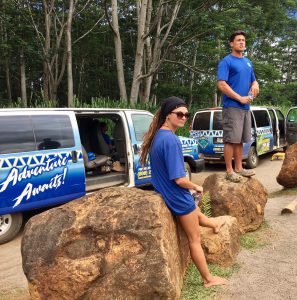 Including some stops, it was about 30min van ride to the spot we started tubing.
I am so excited to start tubing! 
We were all excited to start tubing.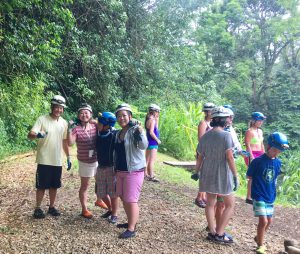 Any carry on items that you couldn't take with you was stored in a box and staff member carried it to the spot we had lunch.
There are a lot of phones that are water proof or resistant so you can use to take a picture but it is good to have it in floating case so they would not go down the bottom of the river when you drop.
We walked about 5min to the spot where we start tubing. We could see some sugar cane, tall bamboos(some bamboo shoots which I wanted to harvest and eat it :))along the way.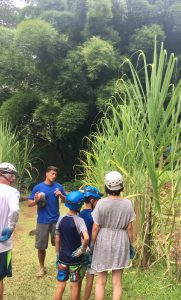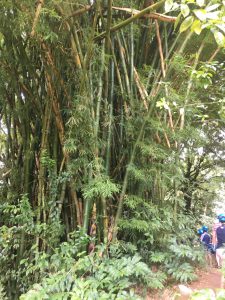 As we follow the tour guides, we saw the stack of tubes which made us all excited more about the tour!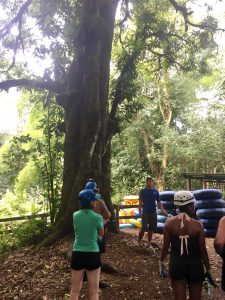 Always safety first when you have fun so one of the staff members demonstrated  before we start tubing. It is not just a talk so if you are visual learner or may not speak a great English, this will help you understand what you need to do.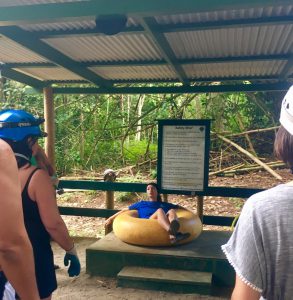 First, we went down the steps and walked toward the river. Tubes were already floating in the river so you don't have to carry them. One by one, we got on a tube by taking turns. Basically, you face backward to a tube and slowly sit on it as you see in pictures:)
Tour wouldn't begin until everyone in the tour were on the tubes. Don't worry! All the tubes are tied with ropes so they wouldn't move until the staff member would remove them.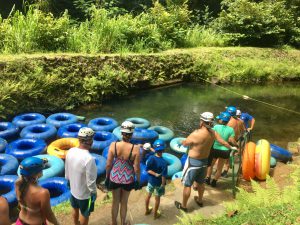 Here is the video of our tubing tour departure! It will start moving slowly first so you can ease into the tour.
River stream is not consistent. Based on the way you ride the tubes and weight, the speed you move may be different from people you are on the tour.
Staff members were always near by us when we had this tour so we felt comfortable and 10 year old boy, Issa enjoyed it very much even through his mother was not next to him.
You can see the pictures of him! Not only kids, but also the grown up people enjoy it too. You can tell by looking at the picture of my hubby.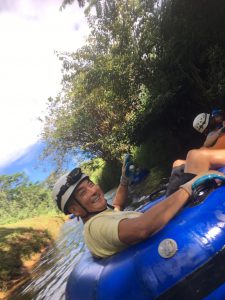 Water is simmering and feels cooler to be floating. All of my friend, Ryoko and Mako were having so much fun!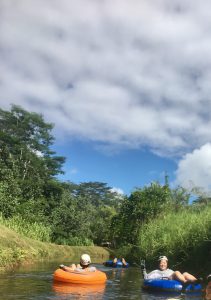 This "Mountain Tubing adventure" is not only exciting but at the same time you feel relaxed and enjoy the nature in Kauai.
"Mountain Tubing Adventure" is not only relaxing but also exciting! 
As you see in pictures, everyone wore the helmets with headlights. There is a reason for that. Because you will go through caves along the way!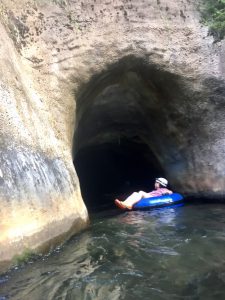 When we approached to the cave, one of the staff member in front would give you a heads up and say "lights on" so you would inform the people behind you to make sure everyone is ready for the cave excursion. Here we come!! Now we were in the cave!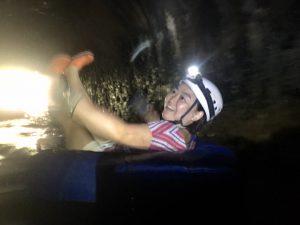 Some people may get uncomfortable with this but I enjoyed it. You can see it clear of where you were facing. My friend, Ryoko was having too much fun!
Here is the video while we were in the cave.
The cave surface was covered with sparking rocks and minerals. Once the light was hit, it looked beautiful.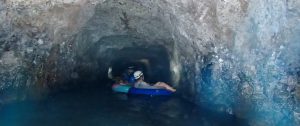 The one of the staff members started singing the song from Moana while we were in the cave. The voice was echoing as we moved and it was very nice. We went through total of four caves along the way. See not only relaxing but there are some exciting with it:) This is "Mountain Tubing Tour"
Her is the video of exiting the cave.
Once you go out from the cave, you appreciate the different shades of greens and lay down to your tube to see the blue sky in Kauai island offers.
 "Mountain Tubing Tour" offers the sound of stream along the way which is soothing to most people. Relaxation is needed for a happy life!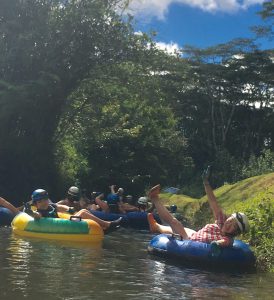 Once you get out of your tube and your feet are on the ground once again, they have lunch ready for you.
"Mountain Tubing Tour" comes with Pita Sandwich lunch:)
It is do-it-yourself style sandwich station with pita bread.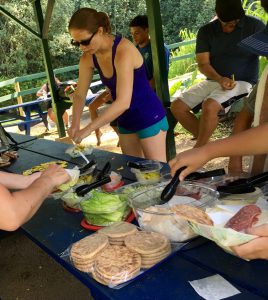 I made a sandwich with turkey and cheese. Of course I topped it off with Lettuce, alfalfa, olives, mayo and mustard. You could also ear Maui onion chips, chocolate chip cookies and water.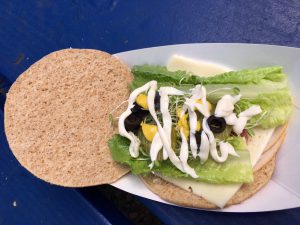 There was an area you can change so you can switch to a dry clothing and you don't have to keep wet swimsuits on. It is about 30min rest with lunch so most of the people ended up wearing swimsuits while we ate. They also brought all the items that you checked in before you started the tubing at lunch spot.
After lunch was done, we got back in the van and went back to the office where we started. They don't also mind getting back in the van with wet garment. If you have a towel, it is a good cutesy to have it down on the seat before you seat. It was about 15min ride back to the office.
There is no restroom at the location you would have lunch so you can use it when you go back to the office. You also have a changing area back in the office so you can change your cloth if you need to go somewhere after this adventure.
You can purchase pictures after you are done with "Mountain Tubing Tour":)
You don't have to bring the camera if you want to enjoy the moment but at the same time if you want to have some picture memory, you will be able to purchase some photos that staff members took throughout the tour. There are several computers in the office so you can take your time to go through some pictures and let them know which one you would like to purchase. If you are in a hurry to the next activity, don't worry. you can go to "Kauai Backcountry Adventures" website offers to view and purchase pictures from there.
Now days, people have water proof camera or water proof cellphone (case) but it is always good to have options. If you rather take pictures with your phone, you can always get reasonable pricing waterproof case at ABC store.
Don't you think you want to try this tour? It looks fun right?
Let me summarize what you need to know about "Mountain Tubing Tour" by "Kauai Backcountry adventures".
What you need for "Mountain Tubing Tour"
[Somethings you can prepare yourself]
-water shoes(you can also rental/I don't personally recommend flip flops. More than likely you will loose them along the tubing tour)
-swim suit or cloth that can be wet
-sun screen
-hat(if you wish)
-bug spray(recommended)
[something "Kauai Backcountry Adventures" prepare]
-gloves
-helmet with head light
-tubing
-lunch(sandwich, cookie, chips and water)
["Mountain Tubing Tour" Pricing]
-$116 per person plus tax(please check with "Kauai Backcountry Adventures"/price may change)
[Things you need to know about "Mountain Tubing Tour"]
-Cancelation policy is 24hours prior notice to your booking. If you have a party of more than 6 people, you need to notify 72 hours prior to your reservation.
-You need to be older than 5 years old and need to be more than 43inch height to be able to participate for this activity
-Unfortunately, you cannot participate if you weight more than 300 pounds
-If you have spinal, hip, knee injury, this may not be a good activity for you.
-Please consult with your physician if you are pregnant.
-Children under age 16 must be accompanied by an adult.
"Mountain Tubing Tour" schedule
-They offer 6 different outing time: 8am, 9am, 10am, 12pm, 1pm and 2pm
-You need to check in 30min before your adventure time at "Kauai Backcountry Adventure"
-Here is the link you can visit "Kauai Backcountry Adventure" site to sign up for the activity tour that they offer. You can choose the date that will work for you and easy to book your fun activity!
"Kauai Backcountry Adventure" contact
*address: 3-4131 Kuhio Highway Lihue Hawaii 96766
*telephone: 808-245-2506
What do you think? Hope you want t to try "Mountain Tubing Tour" offered by "Kauai Backcountry Adventures". It is one of the activity a whole family can enjoy and quite popular one so I recommend to book the tour sooner than later. I would always love to hear about this tour after you try 🙂
*Information may get changed or updated since I wrote the article. Please excuse me regarding to the changes you may find.
Much Aloha♡Tammy